HackingPassion.com
March 4, 2022, Reading time: 3 minutes
Somewhere in 2019, I started HackingPassion.com . My goal with Hacking Passion is to make Ethical Hacking - Cyber Security, accessible to everyone. To articulate complicated things so simply through articles and videos that everyone would understand and be able to follow.
(It goes without saying that it is always useful if you know where the computer's power button is.)
Because I often find the explanation in many articles and videos simply too bad (often it doesn't work, or they only show half of it) I thought it was necessary to change that. Visualize it in such a way that it works, and preferably keep it as simple as possible.
Genius is making complex ideas simple, not making simple ideas complex.

— Albert Einstein
HackingPassion.com started as a WordPress website , on its own server. But since WordPress is very Vulnerable to hackers. And often a big challenge too.
What could be more fun, and easier, to use a website about "Hacking" as a test, and to attack the website.
The attacks to HackingPassion were so extreme that at one point I put a Honeypot behind it.. (This, really just to see the moves, and the data, passwords, the attacks they use) And I can tell you it was very interesting. Also fun..! I just want to make it clear that I had set up the Honeypot purely to monitor the attacks. But certainly not to hurt people in any way.
But I kept getting irritated, and at some point, I had enough. I didn't want a hassle…
So I decided to make from HackingPassion.com a static website. Without a database, without fuss. Without hassle. Just simple a static website… And also super fast! That last one is a real benefit and a really big thing for me - and of course for the audience too. Just a simple static website.
You know that a website without a database, without an outdated PHP, etc, etc. is much harder to hack. Although I had made the server (very) vulnerable. Just to see…
As you read this, I have moved HackingPassion.com to a different server. A little more up to date.
In the future I hope to write more articles on Hacking Passion, and get more inspiration for this as well. I often spend a few days or even much longer working on an article, so that also takes a lot of time. Especially because everything has to be perfect and everything has to be tested to the extreme.
Simple, but without mistakes, and with something extra…
Our goal is to educate people and increase awareness by exposing methods used by real black-hat hackers and show how to secure systems from these hackers.

— HackingPassion.com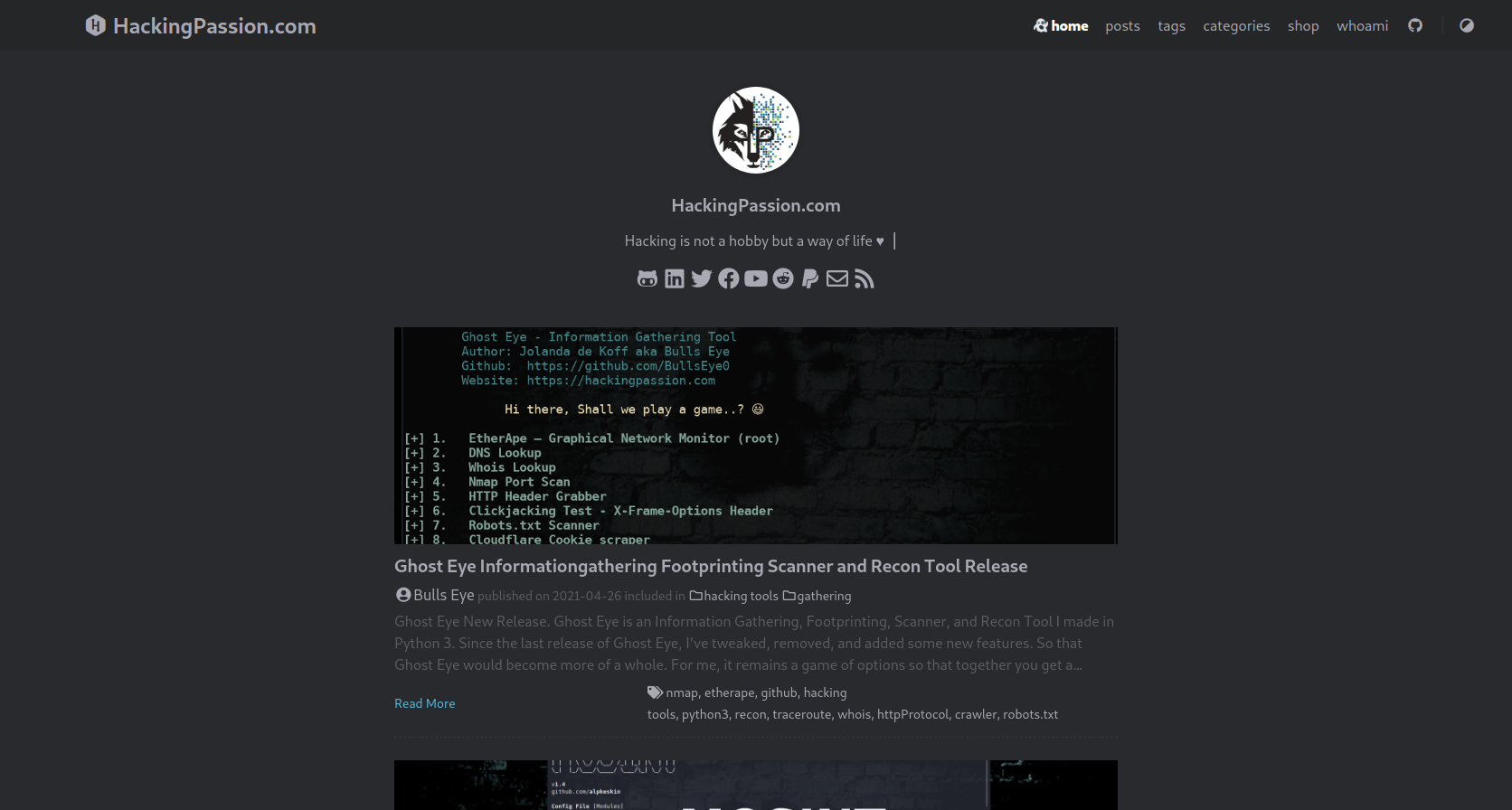 Share on: