← Back to list
Vegan Potato Chickpea Soup
March 9, 2022, Reading time: 2 minutes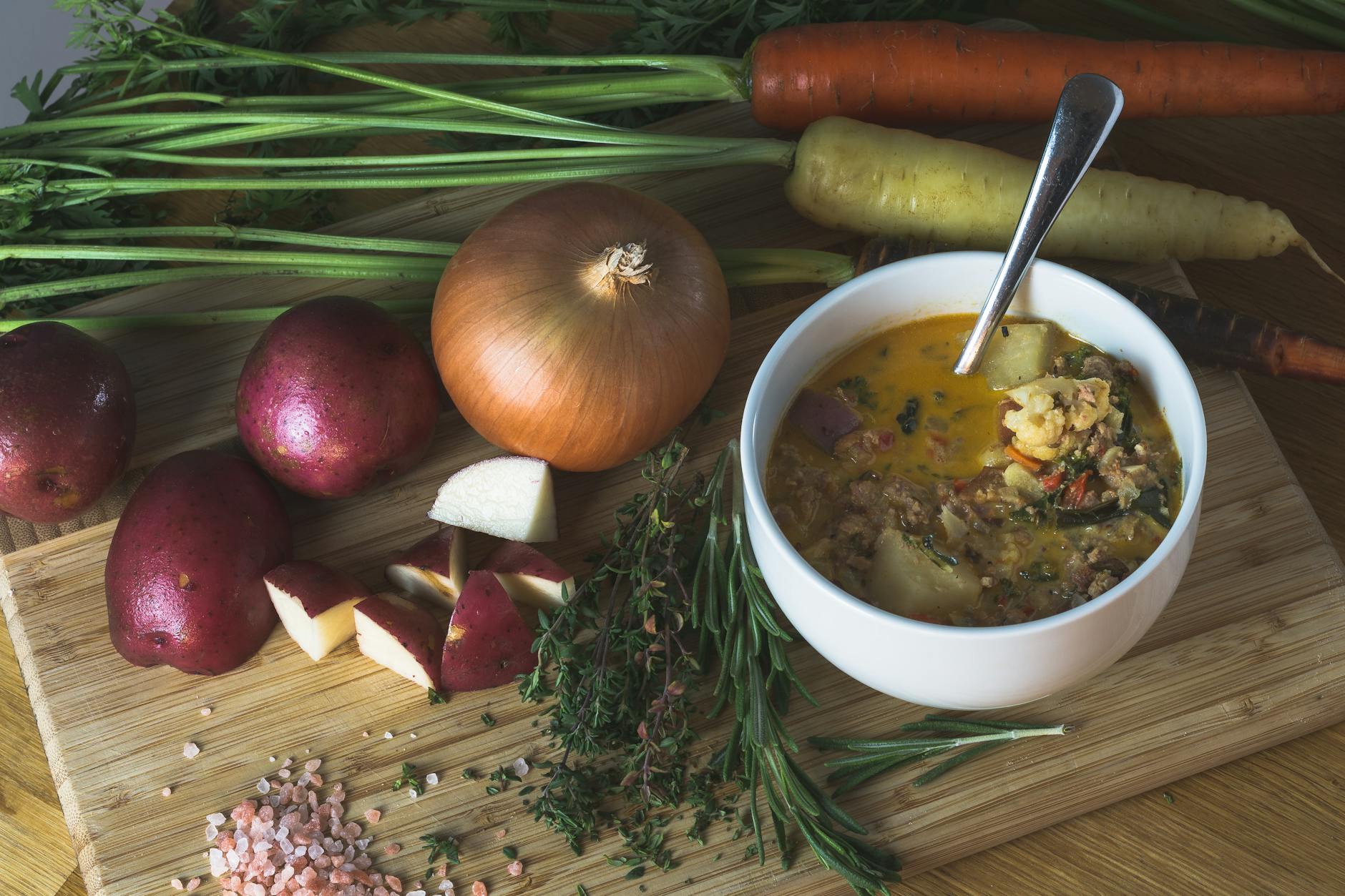 I eat this soup almost every week. It is full of veggies, super filling and delicious. You will LOVE it!
This simple potato chickpea soup comes together very quickly and has an amazing flavor.
Water saute some onion and garlic, mix in the rest of the ingredients and pressure cook or cook in a saucepan. Fold in greens and done. Make it creamy or brothy as you prefer. For creamier, blend up a portion of the soup and mix in.  
This hearty Soup is easy, flavorful, delicious, and quick. Try it with beans and veggies of choice. You can make this soup in all kinds of variants, by simply adding some other vegetables. Try it with bell peppers, kale, or whatever you have left in the fridge. This recipe is very versatile so have fun with it. If you want the soup thicker like a stew stick to 2 cups of water and if you want it more filling like a soup add in 4 cups of water.
Ingredients:
4-5 large potatoes, chopped
2 medium carrots, chopped
2 large onion, minced
3 cloves garlic, minced
4 tbsp nutritional yeast
1 can of chickpeas rinsed and drained
3 cups water
0.5 lemon
Splash of soy or almond milk
Optional: salt, pepper
Instructions:
In a large saucepan over medium heat add in your onions and garlic with 3-4 tbsp of water. Let saute about 5 minutes while you chop up the rest of your veggies. Next add in your carrots, some other chosen veggies and let saute 5 more minutes.
Add in your potatoes chickpeas, and water, bring to a boil, reduce heat to a simmer, cover and cook about 15 minutes or until potatoes are soft. Once its done and add in your almond milk, citrus, and nutritional yeast and serve.
I myself go through it with a blender, but leave pieces for an extra bite.
Share on: