← Back to list
Red Lentil Dahl
August 13, 2022, Reading time: 2 minutes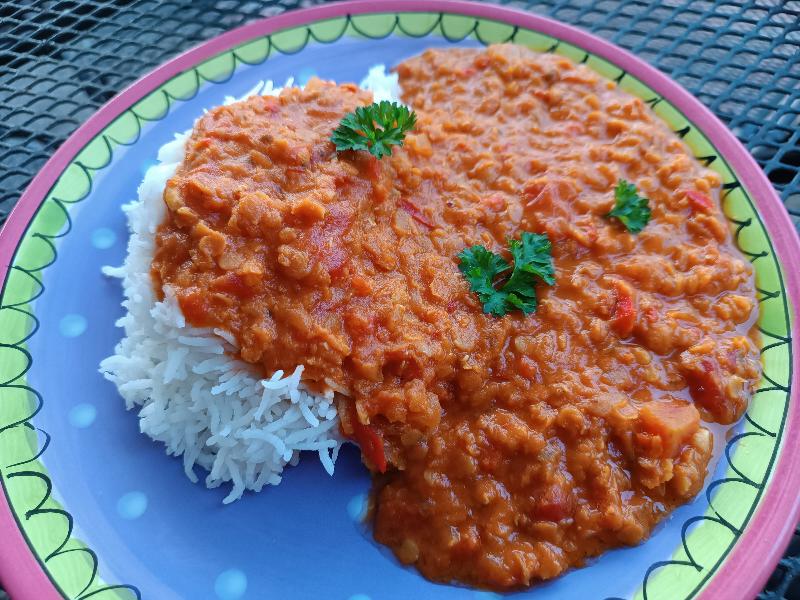 Dahl is a dish from Indian cuisine that is made from legumes and to which a lot is added. We made a vegetarian red lentil dahl. It's comfort food at its finest.
I always make a big batch and keep a stash of this vegan lentil dahl in the freezer  for super quick midweek meals
Dahl is naturally vegan, vegetarian, and gluten-free (but always check your ingredients!)
WHAT IS DAHL?
Dhal, also called dahl, dal or daal, refers to dried split lentils or dried split peas as an ingredient (which does not require soaking or pre-cooking) or as a spiced **curry ** from the Indian subcontinent made with split peas or lentils cooked until soft and thick.
Dhal is a very popular main dish served all over India. As with most traditional meals, the exact methods and ingredients vary from region to region and from household to household.
Recipe for 4 people
NECESSITIES:
2 onions
3 garlic cloves
1 bell pepper
200 gr dried red lentils
500 ml water or boullion
400 ml coconut milk
400 gr diced tomatoes
Juice of half a lemon
half red chilli pepper
½ teaspoon cumin seeds
½ teaspoon coriander seeds
½ teaspoon mustard seeds
2 teaspoons ground turmeric
2 handfuls of fresh spinach washed
2 tsp garam masala
pinch of salt and black pepper
Tastes great with:
basmati rice
naanbread
potatoes
Sometimes I vary this dish with bok choy or two handfuls of spinach. Just see what you like.
PREPARATION: LENTILS DAHL
Chop the onion, red pepper and garlic very fine or finely chop with a food processor.
Heat the oil in a large pan over medium heat.
Lightly grind the cumin, coriander and mustard seeds in a mortar and add to the pan, along with the turmeric and garam masala, and cook for 1 minute.
Add the onions, garlic and red pepper, and fry gently for 5 minutes.
Then add the lentils, diced tomatoes and water. Mix everything well and let it simmer for about 25 minutes. Season with salt and pepper.
Then add the coconut milk. Let it simmer for another 10 minutes until it is slightly reduced. Meanwhile, you can cook the rice and warm up some naan bread. Serve the lentil dahl with the rice and some fresh coriander or parsley.
NOTES
If you don't have all the spices, just substitute 3 teaspoons of Garam Masala.
Squeezing lemon really refreshes the valley, so don't try to leave it out
Share on: